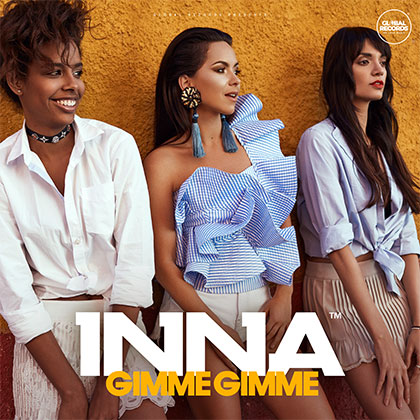 INNA
GIMME GIMME REMIXES
(Global Records/Roton)

New! SAK NOEL REMIX!
New! SAK NOEL REMIX!

"I'm excited to release a song that's so energetic, fresh, with a cool sound, perfect for parties and having fun. I want to thank all the people I've worked with for writing this song: Marco & Seba, Breyan Isaac, David Ciente and Elena Vasile. It's such a blessing to collaborate with so many talented people. Also, special thanks to my team from my record label Global Records", said INNA.

The video was shot in Mexico, directed by Edward Aninaru who also directed INNA's videos "Wow" and "INNDiA" and John Perez as Director of Photography who worked with Rihanna, Beyonce, Alicia Keys, Jay-Z, Lady Gaga and Khaled Mokhtar as second DoP. He worked with INNA in a lot of video projects such as "Be My Lover", "We Wanna".

INNA is working on new songs that will be released during 2017.

INNA is judge in the first edition of The Voice Kids Romania that will be broadcast soon on PROTV TV station from Romania.

For the first time, this year, INNA will be touring in Brasil and Argentina.