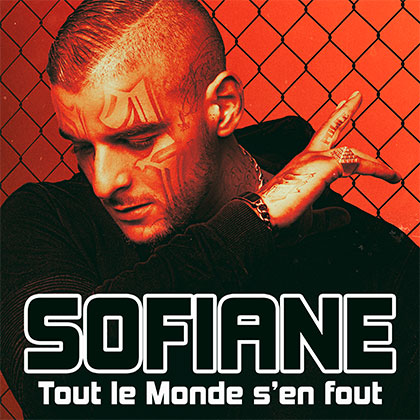 SOFIANE
TOUT LE MONDE S'EN FOUT
(Suther Kane/Musicast)

Best Freestyler!
Born in Seine St Denis, SOFIANE starts at 12yo in the Hip Hop Game, with his first group "Les Affranchis" with Nock-Pi his main composer and BFF. He reveals himself on Karismatik label with a 9 tracks EP titled "Première Claque" out in December 2007.

The follow up is "La Vie de Cauchemar" in 2009. Sofiane positions himself as a French young upcoming rap talent, and in 2010 he specialized in freestyle, and left Karismatik.

In 2011, he co-founded INM Studio Publishing, putting together several studios, a publishing company and his own label.
In less than a year, the success on the social networks of the tracks «Aller Retour » and «Elle Était Belle », will pull Sofiane's status from revelation to confirmed artist.
2012, he will confirmed in projects such as Booska Tape among others.
FIANSO released Black List 2 in 2013 on which he met producer Tefa ; they became friends, and one year later FIANSO signed on Suther Kane joining Kery James and Lino in the roster.

Since then, SOFIANE blew up the roof with his success freestyle serie called #jesuispasséchezSo !
Fianso is back to the roots of street rap, going where no rapper dared to go in the favelas of Marseille or in the ghettos of Seine Saint Denis.
This serie has a dozen of episodes, and got 50 millions views on Youtube and millions of audio streams.
Acknowledged as one of the best French freestylers, Sofiane will leave his mark on 2017 with red iron.