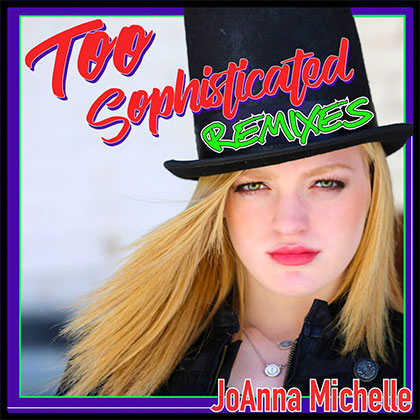 JOANNA MICHELLE
TOO SOPHISTICATED RMX PART 1
(Twin Angel Records/-)

A very Sophisticated track!
Pop princess and multi-instrumentalist JoAnna Michelle, a Wichita, Kansas sunflower, has blossomed to released new dance-pop single "Too Sophisticated."

The single is originally written and produced by Marty "LSD" Bowie with additional production from international producer Josh Harris. The song delivers a one-two knockout missive to bullying perpetrators everywhere, giving listeners something to really dance to.

JoAnna's "Too Sophisticated" first package, produced by Jimmy D Robinson, features slammin' dance remixes from superstar DJs such as Grammy winner Dave Audé, Dirty Werk, Moto Blanco, DJ Globvibes.

These fresh beats will keep the crowd in party mode, so step up and get sophisticated with JoAnna Michelle!