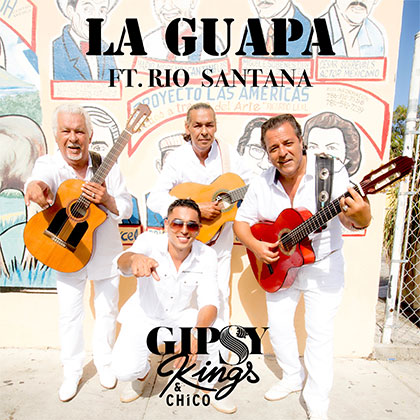 GIPSY KINGS & CHICO
LA GUAPA FT RIO SANTANA
(Capitol Music Group/Suther Kane Films)

The Rebirth
NEW! NAMTO REMIX!

30 years ago, Bamboléo shook the planet, and became a classic of worldwide music. The Reyes brothers from Gipsy Kings decided to celebrate the anniversary by producing a new album with well known producer TEFA (Stromae, Diams, Fianso…) who has been assisted for this project by Keith Ross (mixer of Pitbull, Shakira, Ricky Martin…) and Zay (pianist and arranger of Jennifer Lopez, Miguel, Marc Anthony…).

This is a real artistical rebirth initiated by REYES brothers from Gipsy Kings, inviting their long last friend Chico, former Gipsy Kings member himself, to clap the palmas and make the guitars sing.
Real institution of Latin music for 30 years, the Gipsy Kings of REYES brothers are back with a modern sound, but keeping the Gitano spirit of their music.

The sounds of this new album are going from Salsa beats to devilish Rumbas, a mix of latino music with an invitation to a trip.

La Guapa, first single, gives the tone to this epic piece of Art, featuring the little prodigy of Latin music Rio Santana (protected by Pitbull). The Gipsy Kings with Chico revive the party spirit and celebration of Latin music, with a reggaeton touch.

This new album recorded between Miami, Los Angeles and Paris, gives a new life to Reyes brothers adventure (Canut, Pablo and Patchai).

The Gitano brothers with Chico are willing to enlighten the fiesta nights for a long time, proving they remain the kings of Gipsy.