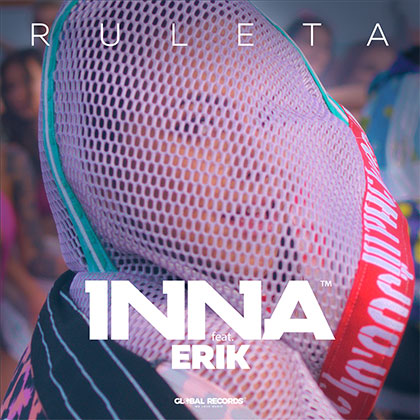 INNA FEAT ERIK
RULETA
(Global Records/-)

New Single!
After a successful single as "Gimme Gimme", INNA is back with a new single called "Ruleta", a featuring with Erik. The song was written by INNA, Erik, Breyan Isaac and Marius Dia and produced by Marco&Seba and David Ciente, the same producers who did "Gimme Gimme".

The video for "Ruleta" was shot in Romania, directed by Barna Nemethi, with whom INNA worked for "Good Time" feat. Pitbull, "In Your Eyes" feat. Yandel, DoP Marius Apopei.

The artist worked with Adonis Enache (hair), Make-up and Beauty Studio (make-up), RDStyling outfits.

"This song is so me, it has energy, good vibes, I just love it and I hope it will make your summer amazing! I love spending time in the studio to write songs and I work very nice with Marco&Seba and David Ciente", said INNA.

"I'm very excited about this featuring and I'm proud to collaborate with INNA, such a big artist, an inspiration. Thanks to all the people involved in this project. I think it will be a great experience for me. #WeGlobal", stated Erik.

INNA's previous single "Gimme Gimme, released earlier this year, hit 56 million views on YouTube and the artist did a promo tour to support the song in Chile, Mexico, Spain, Netherlands and Turkey.

INNA – Gimme Gimme (Official Video)
https://www.youtube.com/watch?v=Jr4TMIU9oQ4

Recently, the famous blogger and TV personality Perez Hilton wrote an article on perezhilton.com about "Gimme Gimme", saying it's a great song with amazing vibe.

INNA will release an EP with English and Spanish songs, with songs written by her such as "Ruleta" and "Me Gusta".

Global Records is one of the main labels in Romania, representing artists like INNA, Antonia, Carla's Dreams, Lariss, Nicoleta Nuca, GJAN, Karmen, Lucia, Mira, Lori Ciobotaru, Yanka, Vanotek.