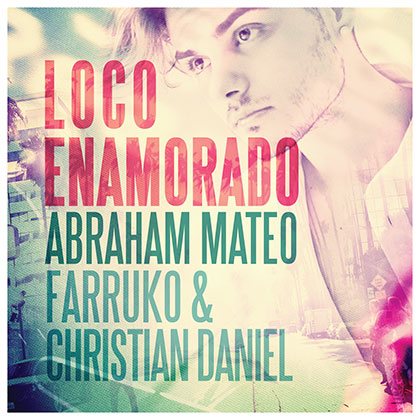 ABRAHAM MATEO, FARRUKO & CHRISTIAN DANIEL
LOCO ENAMORADO
(Jive Epic/Sony Music)

Brand New Track!
Abraham Mateo is more than a young promising Spanish artist with the greatest international impact in recent years. He has build his musical career over the past eleven years and, today, when he is only 18, he is a versatile artist who stands out as an performer, songwriter AND producer. Abraham Mateo is now a viral star boasting more than 9.5 million followers on his socials and over 1 million subscribers on his YouTube channel; he has also become a big influence on Latin American and European youth's tastes and trends.

Born on August 25th in San Fernando (Cádiz, Spain), he's had a long-standing relationship with music. He was only seven when he began winning prizes on TV shows and at the age of nine, he was awarded the Revelación Nacional Prize. He broke all records on YouTube in his native Spain —when he was only 15— with the music video for "Señorita", racking up 130 million views so far.

From 2014 onwards, Abraham Mateo has successfully toured his native Spain three times, delivering over 80 live shows altogether. Fans of all ages have witnessed Abraham's talent and high energy on each of his live shows. Being so young, he sold out countless shows at major venues and arenas like the Palau Sant Jordi in Barcelona (17,000 fans), Palacio de los Deportes in Madrid (16,000 fans) as well as legendary venues in Latin America such as the Luna Park in Argentina (6,000 fans) and the Auditorio Nacional in Mexico (10,000 fans), among others.

His most recent single, Loco Enamorado, was released with great international anticipation via digital platforms and radio stations. The song features collaborations by Farruko and Christian Daniel.

Abraham Mateo has released three successful albums so far: AM (2013), Who I AM (2014) y Are You Ready (2015); the latter being enhanced in 2016 with a remix double CD, new collaborations and unreleased content. All three albums feature Abraham's own compositions and they were produced in London and Los Angeles by renowned international producers, who were also responsible for the success of global stars like Beyoncé, Bruno Mars, Maroon 5, Ariana Grande and Rihanna. Each of the albums has been Gold-certified in Spain; his second album reaching also the Platinum status. In addition, Who I Am was also #1 on the sales chart in Mexico.

The young artist now counts a myriad of fan clubs around the world, highlighting the ones from Mexico, Argentina, Chile, Ecuador, Peru, Colombia, USA, Canada, The Philippines, Italy, France, Thailand, and India among others. Abraham never loses touch with his followers, who call themselves #Abrahamers.

With 5.5 million likes on Facebook, 2.2 million Twitter followers, 1.8 million fans on Instagram, and over 1 million YouTube/VEVO subscribers —where he has gathered 300 million views son far— Abraham Mateo is, undoubtedly, among the elite of global music stars.

2017 now sees Abraham Mateo take a big leap forward towards the urban spirit that pulses through his veins since he was a child, and which he effortlessly blends with the pop music that has turned him into an international star.