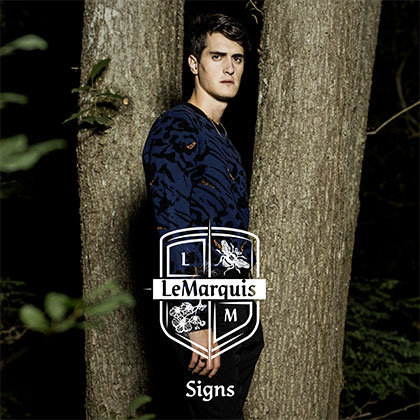 LeMarquis
Up All Night
(Club Riviera/Universal)

Girly!
LeMarquis is a 24-year-old French Dj / producer originally from Nîmes in the South of France. He has been living in Paris since 2014.

He released his first Ep, "Mindtrick» in 2016 on the label Nowadays, to much acclaim from his electro peers. Influenced by the likes of Kaytranada, Flume, SBTRKT or labels like Soulection and Roche Musique, LeMarquis - Théo in real life - has also immersed his sound in Future Beat, R&B and Pop (he counts the Beatles, Daft Punk, Phoenix, Tame Impala and Travis Scott as his favourite artists).

Although LeMarquis already contributed vocals on some tracks from his first release, he mainly allowed for special spots for guests to feature alongside him (Chiara Noriko, Maribelle).

But on his new Ep "Signs", to be released next January, LeMarquis makes the leap and sings on all the tracks, now comfortably taking the lead as the sole vocal groovy-house style crooner. LeMarquis, acting as singer-songwriter for these four tracks, supports further his singular and dandy aesthetics, both with sophistication (eternally elegant production) and great popular appeal (catchy to-die-for tunes and choruses).

With magnetic and fresh sounding hits, LeMarquis succeeds in establishing himself as a singer and completely embodies his club / exhilarating pop gems ('Up All Night', the spirited first single, or 'MYL'), some of which lets on some sincere emotions (the most dreamy 'Friendzone' or the aerial 'Pressure').

Having started to write the music with his guitar (an instrument he learned to play when he was 11), he then produced the tracks in his home studio, crossing-over from house to pop and merging dancefloor material with delicate songwriting skills, that will undoubtedly soon earn him a lot of love.

LeMarquis feels like Disclosure and The XX meeting in a club, deciding to go home together for a late after-party and writing the soundtrack to an ideal night. There are clear 'Signs' that this will be one to remember, as will its writer and performer.