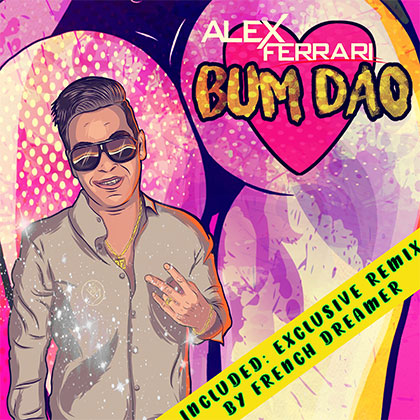 ALEX FERRARI
BUM DAO
(Electro Play Records/Pointhits)

Brand New Track!
Composer of hits such as "Gatinha Assanhada", "AsMina Pira" and "Piradinha", Alex Ferrari is a young talented artist, in "Eletronejo" style, a mix of Sertanejo and Electronic Music.

Alex created a beat that is smashing the whole Brazil, reached Europe and has a fast growing fanbase.

Born in north of Brazil, in Ariquemes in state of RONDÔNIA, he grew up under influence of music in a second generation of musicians. As a kid he was strumming guitar and wanted to become a singer. He spent his own childhood studying music.

After several successes, Alex Ferrari performed his track "Bará Berê" in a concert at Rio Grande do Sul, a DJ filmed it and posted the vidéo on internet. The people created the buzz and the video propagated quickly all around the internet.

In less than a month, he got more than 89 million views on his videos.

In 2012, when Alex made his first concert in France, he was awarded in Paris as a performer of "Bará Berê", most of the European Clubs and radios played his track which reached first rank on Itunes and was featured on Billboard magazine.

From this moment, the singer and song writer consolidated his international carreer. Many other Brazilian artists re-recorded the song, which the soundtrack of "Salve Jorge".

In Europe, the singer made more than 150 shows and is featured in many projects from local artists and DJs; French, Swiss, Portuguese and Angolese.

In 2018, Alex Ferrari is back in Europefor the seventh time, with many new songs from his new partners.