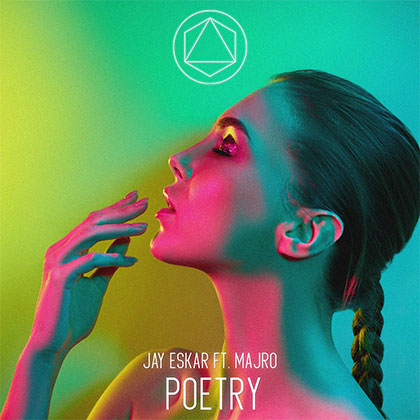 JAY ESKAR FT MAJRO
POETRY
(White Label/-)

Future Bass!
"Poetry" is a song made by Mexican-American DJ Jay Eskar, featuring the swedish singer MAJRO.

In the song, MAJRO sings about a unrequited love or one-sided love. The beloved may not be aware of the admirer's deep and strong romantic affection, or may consciously reject it.

The track opens with some warm, yet very low-key pads and strings, giving MAJRO a huge amount of room for her gorgeous vocals, before building up energy with some anthemic drums, and dropping a future-bass style drop, while a squeaky, vocal-style synth spirals above a sea of swelling synth chords.

Jay Eskar describes his music as Emotional, mystical and energetic. Made essentially out of experiences that can help you enhance your experiences and emotions.

Bio: Mexican-American Jesus Escarcega was born on January 31st, 1998 in Tijuana, Mexico. By the age of 10, one of his cousins introduced him to music production, to soon realize that he loved music.

He developed an interest in music production and with a dose of pure dedication he taught himself to make his own sounds. He started making Dirty Dutch music at the age of 12, but later switched to complextro and kept producing it for more than 4 years.

At the age of 16, he met future house/bounce which caught his eyes and has been his main genre ever since.
---
Photos

Videos

Check YouTube!
Acheter