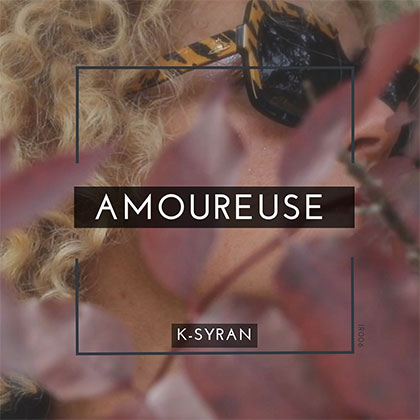 K-SYRAN
AMOUREUSE
(Intimacy Records/-)

Brand New Track!
Your voice expresses your heart – share it, sing it, shout it. This is the K-Syran mantra…

With a US Billboard chart hit, three Top 10 dance smashes and a hugely successful album 'Smoke In My Veins', K-Syran is rapidly becoming one of the world's most indemand live performers.

Her delicious melodic fusion of Classical, pop, rock, jazz and techno infuences blend gorgeously together to create K-Syran's distinctly unique sound; a sound that's led her to become the enviable global anthem for International Women's Day.

K-Syran, is a director, writer, actress and singer-songwriter who's most well known for her acting achievements on stage and screen including 'Voyage in the Dark' at The Young Vic. Her flm roles are notable including "Don't Miss The Cup" with Tamsin Greig, and and lead in a forthcoming movie called "Espere".

However, K-Syran's stunning soprano voice always led her to sing in each of her productions as her tender vocals always got her noticed. With her father being a professional drummer, K-Syran was deeply inspired by music from a very young age.

K-Syran nurtured her voice as lead vocalist for a number of groups including, a Jazzgroup based in Montreux, a hard Rock- group in Geneva and rock- group, Daje Zik, plus a UK tour with the pop legends, Blue. But it's as a solo artist that K-Syran is enjoying the greatest success.

Throughout 2018, K-Syran has enjoyed collaborations with big pop names, global producers and some of the world's most in demand DJs. In the summer of '16 her cheeky pop single 'Hello' smashed into the US Billboard charts, where it stayed all season as she embraced the newly emerging 'social' era by delivering a Snapchat video to keep in touch with her fans.

'Hello' later became the anthem for World Hello Day in the Autumn of that year – proof that K-Syran's music has the power to connect with the masses on every level.

The K-Syran story is only just starting to glow – watch for the explosion, it's coming!