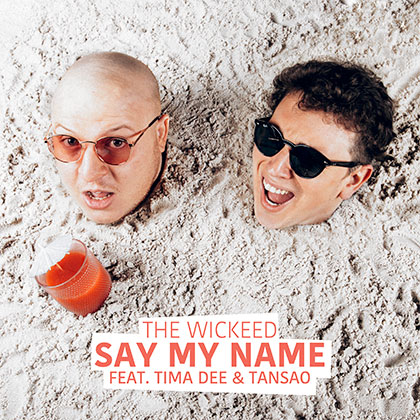 THE WICKEED
SAY MY NAME feat Tima Dee & Tansao
(Club Riviera/Universal Music)

New Single!
NEW REMIX!

The Wickeed, is first and foremost the story of an encounter. Romain and John are both from Belgium, but met for the first time during a show in France, where they were officiating under their respective monikers (DirtySkeys and LUUUL). The two producers immediately hit it off. A bromance ensued where they shared their experiences, their tracks and musical projects, before all naturally starting to combine their skills.

And in 2016 The Wicked was born; a partnership sealed with a first single, « Vacation ». Their signature sound stands out immediately, with carefully crafted pop melodies, a certain electro swing, future beats and the clear intent of working with the pure and juvenile voice of Rebekka Garden.The mighty Spinnin' Records were quick to latch on to their fresh sound, signing and releasing their first track. With only a few tracks and as many months of work under their belt, the duo catches the eye of Petit Biscuit, the new French electro sensation, who invites them to open for him at the Botanique in Brussels. They go on to record a collaboration (under the name Mount Dream, totalling over 8 million streams on Spotify alone). After only a year of activity, they win the prestigious competition from Hungarian Sziget Festival.

In 2018, the duo got a great success with their single FROM THE TOP on label Club Riviera (2 million streams, 4000 radio plays, nearly 100k Shazam). Last June was published their first EP: UNITED.
The Belgian duo is back in 2019 with a new single, SAY MY NAME, upon which they invited US singer Tima DEE. As always for THE WICKEED, the track is Pop and Dance, indecently catchy, thanks to the quality of melodies and production, with a chorus lullaby who gives to the track its addictive singularity. On the startlist for the Hit of the Spring/Summer 2019 race!