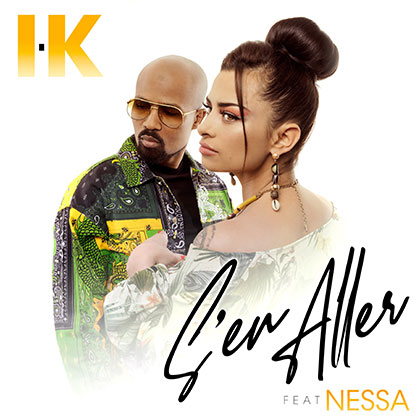 I.K FEAT NESSA
S'EN ALLER
(Wlab/Mkb Musik Corp)

A Romance Thriller!
Despite what it looks, "S'En Aller" is the story of an encounter, not a separation, but not any encounter. One of those which break the heart, turn on and off your senses and trenscends your life. Ikbal tells clearly that he just met the perfect woman.

For those who followed his recent singles, the whole story is taking shake little by little, even if it started by the end "Condamné", who tells the separation of the bodies but not the sentiments.

"Ella" was an eternal love declaration to the beloved one.
"S'en aller" will be the first vision of this creature, who becomes a fantasy object. Like a movie delivering its sequences in reverse.
For those who missed the previous episodes, it does not matter, the story keeps its magic, thanks to the dancing and sensual vibe, like and endless romantic night.
More sunshine pop than Urban, and the lyrics suggest the awaiting ecstasy moments with the beloved one: "Elle ne rend dingue un peu ding ding dong…"

Hard to resist to this will to embrace life (and the girl), "S'en aller" rayonne. "S'en aller" shines. "S'en aller" enlights the Dancefloors. From Cuba to Paris, from Comores to Vitry, because we know there ain't no frontier when you're in love.