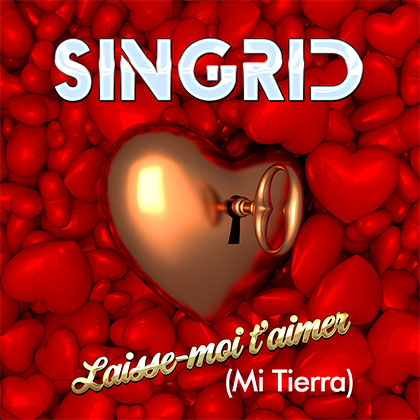 SINGRID
LAISSE-MOI T'AIMER
(Sc Records/-)

Brand New Track!
Between « Le Spleen de Paris » and his simple and touching poem « La Fête Foraine », Charles Beaudelaire who described the best the environment in which Singrid grew up.
« Tout n'était que lumière, poussière, cris, joies, tumulte; les uns dépensaient, les autres gagnaient, les uns et les autres également joyeux. »
Music, which is a very important part of the funfair, won Singrid's heart and is her joy and her essence.

Surrounded by her friends of the funfair business, with a father guitar player, she received a dream musical education, between gypsy jazz and flamenco. She met with the best musicians, and naturally invented her own hybrid style, mixing music genres which revealed in the end to be perfectly compatible.

Creating her own lyrics and melodies, Singrid her love for the city where she was born (« Paris défile »), her job (« Un pour tous, tous forains »), and she celebrates artists who matter to her, who she admires, by producing her own adaptation of their songs, in the genuine style she created: the GYP'SING, hybrid of gypsy jazz, Flamenco and Pop music, which will become a recognized music style soon.

Thanks to her original vocal imprint, you know it's her as soon as you hear it. Clear, with a perfect technique, but with some grain and vulnerability. She performed her last album Paris Mi Amor on the stage of the Olympia Hall in Paris, last year.

Artists are exceptional people, and this is why everybody want to approach them. Singrid's presence is massive, she lightens up the room where she is, and she says with passion about her job (and it's also true for her music) : «Funfair is not an industry, it's a whole culture! »
---
Jay Sérano
- France
Un bon pack, nu disco remix extended futur pop remix,lounge mix,original mix et live mix,une promo redoutable

Photos
Videos

Check YouTube!
Acheter