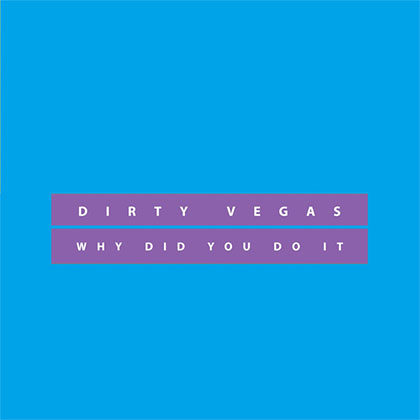 DIRTY VEGAS
WHY DID YOU DO IT
(Feel Good/-)

Amazing remake of Stretch's massive 1975 Hit!
British DJs producers Paul Harris and Steve Smith are back under the spotlights.

With several major albums, many Hits at the top of the Billboard's Dance Chart and many Grammy Awards in these categories:
- Best Dance Recording
- Best Electronic Song
- Best Electronic Artists Of The Decade
- Record Of The Year
Dirty Vegas is considered as one of the most experienced Electronic Music group in the world scene.

Many international Hits, such as 'Days go by', 'Walk into the sun', 'Electronic love' or 'Let the night' certified Golden records in several countries.

The 2 DJS were in the line up of many festivals such as Coachella (USA), V Festival (UK), Roskilde Festival (Denmark) or Fusi Rock (Japan) anf of course many gigs in USA and Europe.

They even had the honor to be the first Electronic Music artists to perform at the Grammy Museum in Los Angeles.
In 2016, Steve Smith played at a gala for Prince Williams at Kensington Palace.
To celebrate their return as they should, the Brits of Dirty Vegas had the brilliant idea to do a remake of 1975 classic from Stretch 'Why did you do it' with massive guitar riffs!

An excellent remix pack for all the DJS and all the Dancefloors with Groovy House versions, Electro Dance, Tribal, House or Electro Pop, there's one for every one!

'Why did you do it', groove guaranteed for your Dancefloors !!!