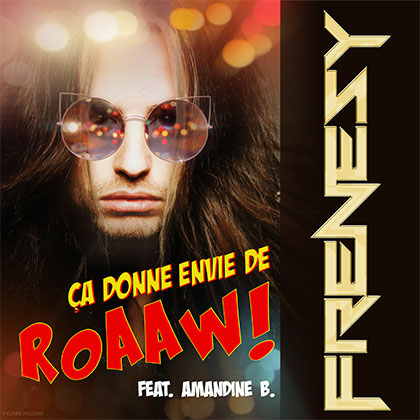 FRENESY
ÇA DONNE ENVIE DE ROAAW! FT AMANDINE B
(Cabaret Sonic/-)

Roaaw!
After kicking the Dancefloor (L'Son T'Matrak), given us his (Best), went from (Highway to Hell) to paradise (La Fiesta), FRENESY is back again once more where you don't expect him, with a track VHS Tape flavoured: "Ca Donne Envie de Roaaw"

Upon an original Disco loop that seems even more vintage than your aunt Jane after 3 Mojitos, here comes the Man of the Year 2019 according to Sex Appeal Magazine: FRENESY!!!
---
Luigi 18
- FRANCE
sympa le rythme excellent, les paroles bof, la musique super, les choristes top, à voir la réaction sur le dance-floor, original mix et JAIMY JAY REMIX

Jay Sérano
- France
Excellence total,extended club mix of past travellers cortelle,et jaimy jay remix,ca donne grosse envie cette promo ofiicielle yes

Photos

Videos
Lyrics Video

Check YouTube!
Acheter