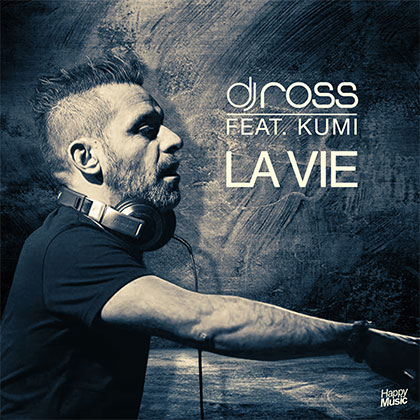 DJ ROSS FEAT KUMI
LA VIE
(Happy Music/-)

Brand New Track!
Rossano Prini, known as Dj Ross, is one of the most notorious names in the Italian's dance scene. His career started in the 90's as dj resident in some of the top clubs in the Northern Italy. His first successful production was "Happymen - Love Is You" with Do It Yourself, meanwhile he worked at first at historic Discomagic and then at Self Distribution, later on, for over a year he worked at E-mail Records.

In '98 he became the A&R manager for Time Records, managing SPY Records while continuing producing songs in the studio and hits are never far behind, "THE LAWYER – I Wanna MMM", the whole project "E-Magic" and soon after he starts to collaborate with Luca Mensi producing Tristano De Bonis known as MAGIC BOX, which with the songs 'Carillon', '4 Your Love', 'If You', etc", climbed the international charts.

Then "ERIKA" came, with the songs 'Relations', 'Save My Heart', 'I Don't Know' and 'Ditto', songs written by his brother Tristano and produced by the duo Mensi-Prini, they reached the summits of the sales charts in many countries of the world!

Together with Paolo Sandrini began the project DJ ROSS which was a huge hit with the song "Dreamland", a still danced song, despite 15 years have passed, then "Emotion", which brought him to play in the best clubs in the world, from Italy to Europe, from Brazil to USA, from Russia to Egypt, having a great success everywhere. In 2007, Dj Ross lands to M2O, the most important National Dance Radio in Italy, where he hosts the famous Radio Show "The Bomb", directed by Alessandro Viale, on air everyday from 01:00 to 02:00 pm, from Monday to Friday; from 2010 to March 2019 he was the head of music of m2o Radio. He remixed Officially several hits, including "O-Zone Dragonstea Din Tei", "Ligabue - Happy Hour", "Vasco Rossi - L'uomo Più Semplice" and "Sono Innocente Ma", "Nek - Fatti Avanti Amore", "Marco Mengoni - Io Ti Aspetto" and many others, lately he remixed "Lp - Other People" and "Francesco Gabbani - Occidentali's Karma", "Wighfield – Saturday Night", recently "Hooverphonic – Romantic" broadcasted on big radios, same for "Giant Rooks – Wild Stare" made for Universal Music and Zoe – C'est La vie for Time Records.

On last 29th March his new single "La Vie" was out, with amazing feedbacks. Today he manages 'Bang Record', a Record Label which in a short time has become a reference point for those working in the industry, in Italy and abroad.