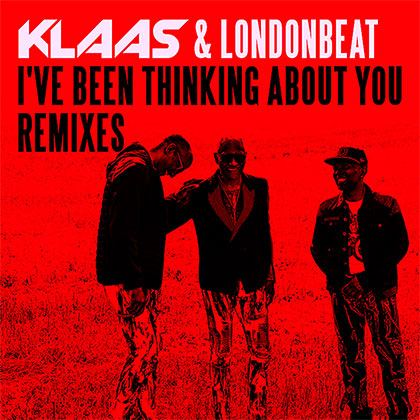 KLAAS & LONDONBEAT
I'VE BEEN THINKING ABOUT YOU
(Feel Good/-)

# 1 BILLBOARD DANCE CLUB SONGS
Well known German DJ KLAAS teamed up with Superstars pop band Londonbeat, to revisit the International Hit "I've been thinking about you", charted Top 1 in the Billboard Hot 100 US in 1990, and in 27 countries, with 5 million copies sold.

This is a song that keep you smiling, and that you cannot forget!

2019 is the moment they're back at the top of the charts worldwide.

- Top 1 Billboard Dance Club Songs
Already
- #1 In Germany
- #1 in Denmark
- #2 in Finland
- #2 in Sweden
- #3 in Austria
- #4 in Italy, Etc…

Londonbeat toured all around the globe, giving their fans a vocal magic, performing a unique show at each gig.

Klaas made a lot of International remixes, alongside Dimitri Vegas, Guru Josh, Erick Morillo, Real 2 Real or Global Deejays, received many awards (Gold, Silver & Platinum in many countries) and performed everywhere, including France.

This excellent remix pack is for all DJs and all Dancefloors, with Electro House, Deep House, Dance, House influences and a massive Dub Special Summer 2019 !

Supported by all International DJs, this is the massive banger of summer 2019!

"I've been thinking about you", a pure smash Hit for your Dancefloors !!!