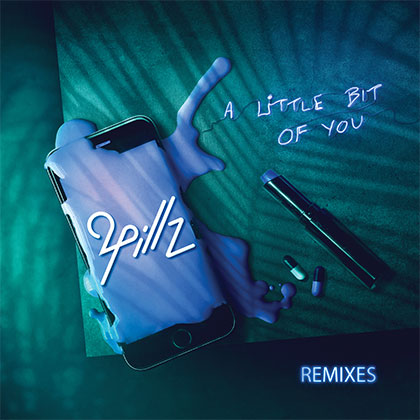 2PILLZ
A LITTLE BIT OF YOU
(Jo&co/-)

Brand New Track!
2Pillz is a futuristic concept mixing music and fiction, created by two shadow producers.

The story begins at a writing seminar in Saint Germain. After a long cigarette break, two bubblizz vodka, the beatmakers decide to merge their talents. A Rhodes piano, coupled with some sequencers and drums machines, and the project 2Pillz was born.

Their inspirations are many but mainly tainted by the electro scene and French touch. Influenced by the House of Cassius and Thomas Bangalter, the 2Pillz get also their inspiration from pop and urban music.

One of them is a performer on the first single, through a metallic vocoder with a very actual pop flow. Following is a captivating bass, a groovy rhythmic but especially a catchy refrain filled with symphonic brass.

And the project does not stop there. The 2Pillz decide to transcribe their first title on the screen completely disrupting the codes of music to the image, with a real desire to convey a message. They return to the United Kingdom, where the first French records were exported in the late 90s.

The story takes place in a London apartment room with fluorescent-Japanese decor, very stylized. A young woman drifting on mobile applications never before used, showing us new ways of consuming in the near future … It's all a anthology of science fiction, where innovations mix with the lowest human instincts.

Released on July 12 the first single "A little bit of you".