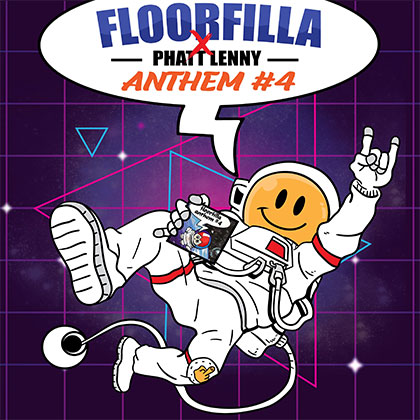 FLOORFILLA X PHATT LENNY
ANTHEM #4
(Feel Good/)

He's back!
No need to introduce Floorfilla and producer DJ Cerla, the guy behing so many Hits which made the planet dance.

As a celebration of 20 years of successes around the world, DJ Cerla decided to team up with well known German DJ Phatt Lenny, remixer of many international artists.

Two talents combined for 2019 rework of international banger : Anthem # 4, with an excellent Dub version for a winning move.
Early fans will be thrilled by this new version of this must have Hit, which can be played on any Dancefloor.

A Real Banger Ready To Be Played At Peaktime !!


Who is Floorfilla? (DJ Cerla)

I started Djing in 1990, then I bought my first sampler (an Ensoniq EPS-16) and started producing my own tracks and remixes, and I quickly got noticed by Black Box' Daniele Davoli. In 1993 I first entered the international charts with Rotterdam '93 (#1 Spain, #1 clubs Italy), my very first production, then Mi Boca, Dance if you cannot, Wonder (with Moratto).

In the early '90s I was tasked to remix popular artists like Lucio Dalla, Adriano Celentano, Fiorello, and Rednex, Underground goodies, KK and others. In 1999 my sound went global, charting all around Europe and other countries with Floorfilla's Anthem #2, followed by Anthem #3, Anthem #4, Anthem #5, The Hypno!, Italodancer, Le Delire, Technoromance, Komputermelody, Kosmiklove, Anthem #6 and many others, and the albums United Beatz of Floorfilla and Le Voyage, followed by a long tour in Europe, Latin America, Far East. In 2011 I teamed up with Marvin (from Prezioso & Marvin) to remix Anthem #4 and producing Tekilla's Never Enough for Black Eyed Peas' DJ Motiv8.

Floorfilla re-entered the international charts in 2014 with Just Another Night with DJ Manian, then in 2015 it topped the French Dance charts with One Heart, a co-op with the Dutch rapper P. Moody and the Italobrothers. Followed by On & On (2016) featuring P Moody and Channing and "We Own The World" (2016) featuring LDM and the hit "Work That Body", again produced in co-op with P Moody.