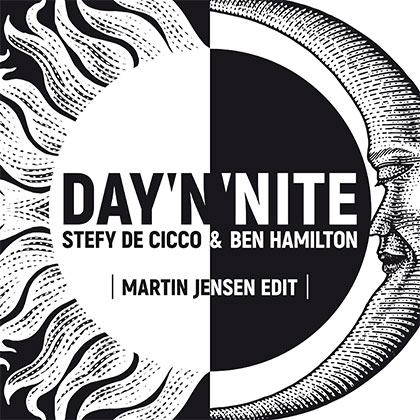 STEFY DE CICCO & BEN HAMILTON
DAY'N'NITE (MARTIN JENSEN)
(Island Def Jam/Universal Music)

Massive Bassline!
After the success of their latest singles "Faded" and "La Passion", the multi-platinum selling DJ and producer Martin Jensen has teamed up with Stefy De Cicco and Ben Hamilton again to deliver a compelling rework of Kid Cudi's smash "Day'N'Nite".

The soulful tone of Ben Hamilton's voice and his flawless vocal performance render the already catchy melody even more hypnotic. His voice lays perfectly on top of the modern pulsating beat that Stefy conjured with the help of Danish hitmaker Martin Jensen.
Martin Jensen is best known for his 2016 breakthrough hit "Solo Dance", which has garnered over 500 million Spotify streams and earned multi-platinum certifications in over 14 countries which led him to amass over 1 billion Spotify streams in his career to date.

Securing a spot in the DJ Mag 'Top 100' list for the past three consecutive years, Jensen has performed across various festivals and clubs, including Tomorrowland, Lollapalooza, SW4 and London's iconic Ministry of Sound.

Stefy de Cicco spent 25 years of passion at the console of many clubs in Italy and abroad. His first production "Keep On Jumpin", supported by David Guetta was included in the 'Fuck Me I'm Famous' playlist and reached the Top 10 of Pete Tong's favourites songs. In 2017 Stefy released another hit single – "I Like That" with Stella Mwangi, which was playlisted by all major radios in Italy.

The following year his collaboration with Lorna (from 'Papi Chulo') "Fiesta" was included on the Netflix Series: "On My Block" Season 2. In 2019 Stefy released a successful remix of Gigi D'Agostino's "La Passion".