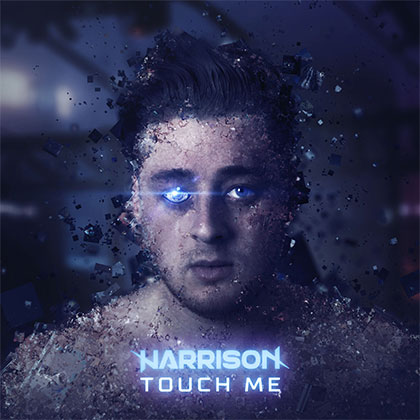 HARRISON
TOUCH ME
(Island Def Jam/Universal Music)

Brand New Track!
Harrison's first release on Virgin Records, 'Touch Me', is set for huge success on the international stage. Almost twenty years on, Harrison is bringing back to life Rui Da Silva's MTV classic, which was an instant hit after its release in 2001, achieving number 1 in the UK Dance Charts and charting for a total of 14 weeks.

The release will also see Harrison's first music videos while on the electronic stalwart label. Both a futuristic & sleek music video and an animated lyric video will grace the screens of Harrison's eagerly anticipating fans with the release. An innate perfectionism and attention to detail is what characterises Harrison's visuals, epitomised by the artwork which is a composite mosaic of other images.

As a singer/songwriter Harrison consistently garners support from the electronic scene's elite, including big names like David Guetta, Steve Aoki and Martin Garrix, thanks to his inimitable vocal, and the strong identity of his lyrics. Furthermore, the young artist continues to be championed by both club and radio DJs globally and, notably, his latest single with Knife Party titled 'Death and Desire', saw Zane Lowe bestow upon it the accolade of #WorldRecord on his trend setting Beats1 radio show. The single also achieved #1 in the Dance Chart on Apple Music, as well as close to ten million Spotify streams, on the back of some impressive radio support including BBC Radio 1's Dance Anthems. Harrison's performance on streaming platforms is considerable and 'Tell Me Why', a much awaited collaboration with ALOK, has already amassed an impressive 10.5 million streams since its release and is poised for further dance-lovers-acclaim in Summer '20.

Following huge success from previous releases on Spinnin' and Armada, 'Touch Me' sees Harrison embark on an exciting new chapter in his glittering career.