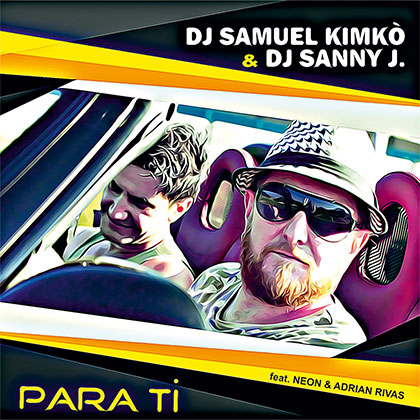 DJ SAMUEL KIMKO' & DJ SANNY J feat.Neon & Adrian Rivas
PARA TI
(New Music International/-)

A Hit on Tik Tok!
Numbers are clear, his latest productions generated more than 20 million views worldwide, in particular: MI VIDA (6.6 M Views on YouTube), TOCA LOCA (6.2 M Views on YouTube), LA ZUMBERA (5.5 M Views)

SAMUEL KIMKO' is the king of Latin-Dance which gets lots of successes in international Dance & Radio charts.

His tracks make people dance around the globe, in Dance schools, holiday villages, discotheques, dance halls, with a very entertaining music, a great beat and massive production skills.

He's back in summer 2020 with the intention of repeating his success with this beautiful production made with DJ SANNY J. and fantastic vocals of South Amercian performers Neon & Adrian Rivas.

PARA TI is the first Opus of a serie of Latin productions released all along the summer, with the hope of making you forget the bad moments we all are experiencing right now.

Enjoy !