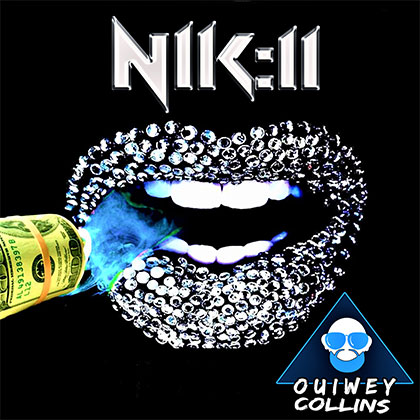 NIK:11 & OUIWEY COLLINS
KICKBACK
(Dauman Music/-)

Brand New Track!
EDM Producer, Songwriter, Artist and DJ NIK:11 has been coming on strong reaching new heights when her track "KICKBACK" hit the Billboard Dance Chart. The "KICKBACK" mixes climbed up the Music Weekly Chart in the UK to the Top #10. KICKBACK hit the Top #20 on the Billboard Dance Chart, holding titles such as "Breakout Artist", "Power Pick" and "Greatest Gainer" in 2020.

NIK:11 also creates, writes and produces her own music videos reaching over a million views and is on the right track to EDM stardom after winning her second consecutive HMMA Award from Grammy Award winning panel, awarding NIK:11 as "Best EDM Artist" for her songs 6AM in 2018 & TOUC11 in 2019.

NIK:11 produces and releases one hit track after another worldwide, from bouncy EDM, Big-Room beats to Electro and Tech House. NIK:11 sets the music world ablaze with each track she releases and will be hitting us hard on the dance floor in 2020 with her next release HANDS UP! July, 2020.

NIK:11 has had one colorful career touring on several tours and festivals in America, Japan and Europe with many famous recording artists and producers earning national and international recognition.

While touring NIK:11 has drawn the attention for licensing opportunities with Peloton Interactive, Equinox Media, TouchTunes, TikTok and on popular television networks like NBC, CBS, VH1, MTV. NIK:11 has been featured in major publications such as Billboard, Entertainment Weekly, Guitar School, Music Existence, Indie Source Magazine, Indie Music Reviews, Indie Band Guru, Gas House Radio, NeuFutur Magazine, Vents Magazine and Skope Magazine to name a few. Https://www.nik11.com/reviews/

NIK:11 has also been a working actor for many years and has had the privilege to work with actors such as Jeremy Piven, Jon Favreau and David Spade with feature and supporting roles in both television and film. As a SAG/AFTRA actor, NIK:11 has worked with companies such as 20th Century Fox, Warren Zide Productions, NGM Enterprises, E!! Entertainment, Travel Channel, and Lionsgate Productions and has been featured on TV and Film such as the E!! Channel, Inside Edition, Today Show, Dateline and MSNBC.