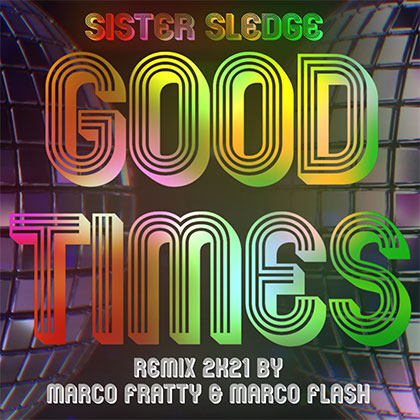 SISTER SLEDGE
GOOD TIMES - Marco Fratty & Marco Flash radio rmx 2k21
(New Music International/-)

Brand New Track!
A dive in the Disco of the 70s with this magical remix of GOOD TIMES, performed by amazing vocalists SISTER SLEDGE (a tribute to late Joni Sledge)

A great remake by DJs producers Marco Fratty & Marco Flash who modernized this hit, respecting the original sound. Lovers of this period will enjoy this come back to the 70s, and youngsters will understand why this sound conquisted the world Dance during this era.

Marco Fratty, DJ Producer, already a member of legendary FPI PROJECT in the 90s, reached the top of the international charts with Hits such as "Rich In Paradise"

Marco Flash is a famous DJ, on top of the wave since the 70/80s.