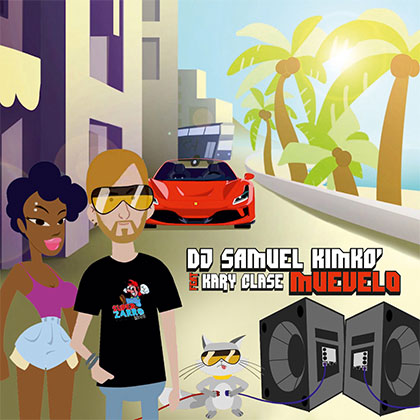 DJ SAMUEL KIMKÒ FEAT KARY CLASE
MUEVELO
(New Music International/-)

Muevelo!
The figures of DJ / Producer SAMUEL KIMKÒ speak for him: his latest productions have made more than 25 million views on YouTube, in particular: MI VIDA (9 Million), TOCA LOCA (7 Million), LA ZUMBERA (5.5 Million), PARA TI (3 Million)!

On SPOTIFY his songs have exceeded 3 Million Streams!

SAMUEL KIMKÒ is still present in all the international club and radio charts! His tracks have made and still make people dance around the world in dance schools, holiday resorts, discotheques, zumba dances and group dances, always for a lively and entertaining music with a powerful beat and perfect production!

His new single MUEVELO, with Kary Clase's amazing vocal, is a pure Electro/Reggaeton gem, which is reminiscent of MAJOR LAZER's best tracks.