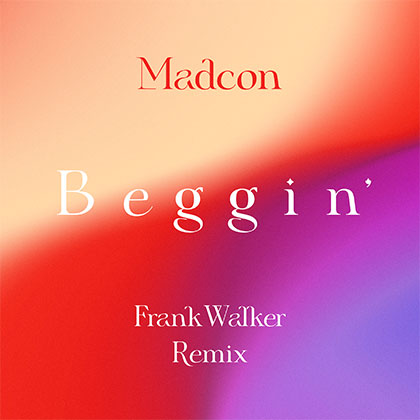 MADCON
BEGGIN' (Frank Walker Remix)
(Cosmos Music/-)

Brand New Track!
Madcon's cover of Beggin' has absolutely exploded in the last couple of years. The track has over 200m streams and 100m views and the #beggin has more than 113m views on TikTok. This classic dance floor anthem was originally released by Frankie Valli and The Four Season in 1967 and then turned into a global hit by Madcon 40 years later.

And now Toronto-based DJ Frank Walker has given the track a brand new makeover by remixing Madcon's version.

"I wanted to pay homage to Madcon by maintaining the soulfulness of their original vocals, while taking it to another level energetically - adding driving drums, a bigger bass line, and funky house pianos.

Thecombination of all those elements created something that has a nostalgic feel people can sing along to, but still slaps so DJs can play it outin their post-pandemic sets", says Frank Walker.