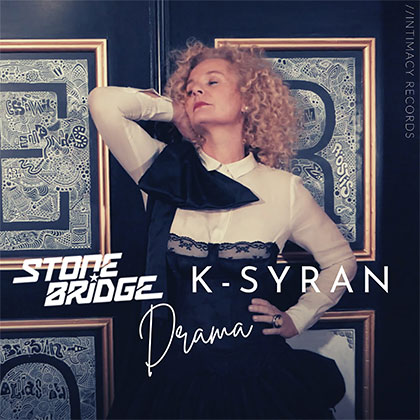 STONEBRIDGE & K-SYRAN
DRAMA
(Intimacy Records/-)

Brand New Track!
Since tapping into the musical mainstream with his remixes for Robin S, Sia, Usher, Missy Elliott, Taio Cruz & Ne-Yo, GRAMMY Award nominated Artist, Producer & DJ StoneBridge has not slowed down. With his music regularly playlists on BBC Radio 1 & Kiss FM StoneBridge's presence on the airwaves is as familiar as ever. It's this ability to stay current that has led to StoneBridge hosting his weekly StoneBridge #bpmMix radio show on Sirius XM/BPM as well as his weekly StoneBridge HKJ show.

StoneBridge has been rocking sets globally on the Hedkandi 20th Anniversary tour, headlining the Sunsetter Festival in New Zealand and Prestfest 2021 UK coming up. He just released his Love Terminator collaboration with Crystal Waters and has also been busy remixing Wh0, Rebecca & Fiona and Billboard Dance #1s for Klaas & Londonbeat, Nelly Furtado, P!nk & Ariana Grande mention a few.

-------------

Singer-songwriter, actress, director, producer, and human rights activist K-Syran is pleased to announce the release of her latest single D.R.A.M.A., created in collaboration with renowned superstar StoneBridge. The single has been released with a stunning video shot by Clarina Hocké on location in Greece, and is now available to be seen on YouTube.

"D.R.A.M.A. is exactly the sort of song we all need right now," says K-Syran. "It's so upbeat and fun, and it makes you want to dance. I hope you'll check it out!"

According to the artist, the video shoot in Greece ended up being quite an adventure. On their first day, they arrived at their beautiful R&B flat by the sea in Spetses. As they sat outside enjoying the magnificent view over a glass of wine, the neighbor's wife suddenly stormed outside with a chair above her head, shouting her husband's name.

"She then proceeded to hang the chair on the fence outside our kitchen window, then threw her Hoover into the shared garden. A real-life Carmen! But with a song called D.RA.M.A., I guess there had to be some drama involved!"
K-Syran has seen tremendous success as an actress, author, director, and lyricist, not to mention as an impassioned activist for women's rights. As a trained singer, her musical career knows no bounds, with previous musical collaborations that include Sugarbabes' Amelle Berrabah and British dance music producer and DJ Mark Loverush.

Her single 'Intimacy' was nominated by the United Nations in the U.K. for to be the anthem of international Women's Day, while her album 'Dizzy' has been nominated for a number of prestigious awards in the U.S. Renowned for her energetic and versatile live performances as well as an exquisite dress sense, K-Syran continues to amaze fans with her upbeat and infectious style.

For more information about this talented artist, visit her website at https://www.k-syran.com, her Instagram account or YouTube channel.