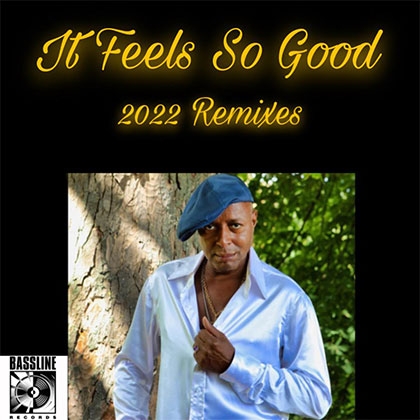 LEEE JOHN (OF IMAGINATION)
IT FEELS SO GOOD 2022 REMIXES
(Bassline Records/-)

9 REMIXES!
With the 40th Anniversary of Imagination this year, Leee John (Of Imagination) continues celebration, with his new Release
"It Feels So Good".

In 1981 Imagination had their first release , followed by numerous classics, including :"Just and Illusion" , "Changes" , "Body Talk", just to name a few, and in 1987 "Instinctual" was released,. Leee John (of Imagination) had well established solid worldwide fan base by that time, but Victor Simonelli was just starting as studio intern in 1987 at Shakedown Sound (Studio owned by Arthur Baker in NY, and who Leee recorded "Instinctual" with).

This is where the story of this Song begins.

Leee and Victor first met at Shakedown Sound (recording studio, while Leee was working with Arthur B, but meet was a very brief).
Victor, being a big fan himself of Leee, and Seeing / Hearing Arthur and Leee together, it was "Instinctual". Victor dreamed that he could one day, record song(s) with Leee.

Victor, (Just a local Brooklyn NY DJ at that time) , along with Sam and Kelly Mack (long time friends and writing/prod partners From New Jersey), came up with a basic idea , around 1988, hoping to get it to Leee and complete it, some day in the future. Since then, with Time, Victor has become a well established and internationally known and followed DJ, Producer, Songwriter, Remixer, Label Owner.. And Sam and Kelly, now have numerous successful releases under their belts.
Fast Forward to 2018, and Victor and Leee finally met again, this time in London UK and this time with the intention to complete and record this amazing gem of a song , and future classic.

Now in 2021, not only has this amazing dream collab come to be, and been completed , but it also coincides with Imagination's 40th Anniversary, and is being released as we all come out of . And get passed, this worldwide pandemic.

The Song really says it best "It Feels So Good"
Roaring 20's here we come.