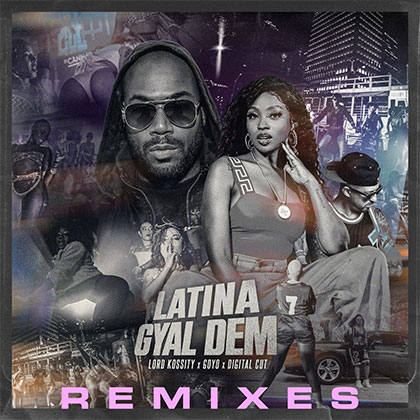 LORD KOSSITY X GOYO X DIGITAL CUT
LATINA GYAL DEM REMIXES
(X-ray Production/-)

Remixes!
On an energetic and powerful beat at the crossroads of Reggaeton and Dancehall produced by Digital Cut, the single "Latina Gyal Dem" highlights the style of French rapper Lord Kossity and the incomparable voice of Goyo, lead singer of Colombian star group ChocQuibTown.

Lord Kossity is one of the most influential artists of the urban generation in Europe, co-author of the classic among the classics "Ma Benz" by NTM, his single "Hotel Room" was one of the most acclaimed in dancehall, reaching more than 20 million streams on all platforms, the rapper is recognized around the world and particularly in Latin America.

Goyo, on the other hand, is the lead singer of the two Grammy Award-winning ChocQuibTown group, she is one of the most influential voices on integration and equality in the Afro-Latin community in the world and the one of the most inspiring singers in the Afro community in Colombia.

The clip shot between Miami and Bogota mixes the essence of Bogota rumba with the beach scenery of the streets of Miami with a minimalist touch.

For the first time these two artists of different origins and languages ??meet to celebrate the figure of the Latin woman through dance. This song combines Dancehall and urban music on a faster tempo than a classic Reggaeton with a little darker vibe, a very heavy beat while remaining club and hyper dancing.