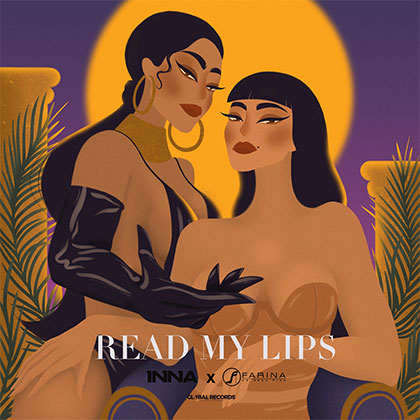 INNA X FARINA
READ MY LIPS
(Global Records/-)

Brand New Track!
INNA is back with a smash hit "Read My Lips" in collaboration with Farina

INNA surprises her fans with a brand new single called "Read My Lips" featuring Farina, a versatile artist, a Columbian superstar who brings the latino flavour to this song.

"Read My Lips" is a mix of genres (pop, reaggaeton, trap), it was written by Sean Fischer, Elsa Curran, Lilian Caputo, Britt Burton, Farina Pao Paucar Franco "Farina" and produced by French Braids and Alexandru Cotoi.

The video for "Read My Lips" shows two strong artists, sexy, stylish and it was directed by Bogdan Paun and shot by Alexandru Mure?an (NGM Creative). On Farina's part, the video team is composed of Jhon Nael and Jhonatan Abraham (NJ Entertainment) and Jared Pimienta (DoP).
"Really excited to share "Read My Lips" with my fans and very grateful for having Farina onboard. She's a super artist, my latino girl. Let's get this party started!", said INNA.
"It's a huge achievement for my career to have a collaboration with INNA, the queen of dance. She is a true inspiration - her voice, her music, her lyrics. She is also a style icon and I'm happy to be part of "Read My Lips". Added Farina.

Farina is a Columbian singer, actress and songwriter, one of these rare artists who impresses with her poetic songwriting, edgy command of storytelling, ability to sing and rap while flawlessly weaving dancehall, reggae, reggaetón, trap, rap, pop and folklore genres with the sensibility and vulnerability of a woman's perspective. Farina has previously collaborated with Tinie, Thalia, Sofia Reyes and Maluma.

This year, INNA released "Not My Baby", "Sober", "VKTM" feat. Sickotoy and TAG, "Discoteka" with Minelli and "Nobody".