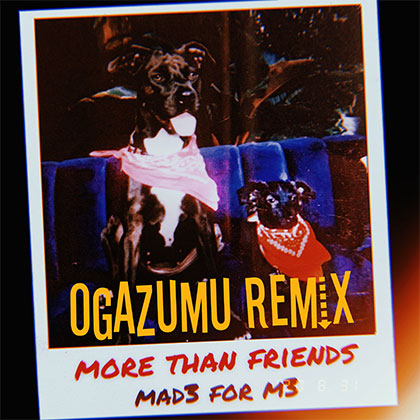 MAD3 FOR M3
MORE THAN FRIENDS
(Silver Prod/-)

Remix by Ogazumu!
MIAMI (September 18, 2020) — After many years of writing and producing music for global artists, Mad3 For M3 debuts their first original single titled, "More Than Friends."

Mad3 For M3 is made up of an eclectic, talented group of Miami-based musicians.

This project originated during the beginning of the COVID 19 pandemic, when they came together and turned the lockdown into their musical escape. Mixing musical influences, they deliver an intriguing blend of Indie Pop melodies, honest storytelling lyrics emblematic of Country songs, and Classic Rock harmonized guitar riffs, thus creating what will be known as "quarantine's soundtrack."

"As our first original single, we wanted to give our listeners a fun song about something that everyone experiences at one point in their lives. The pulsing synths and soaring guitars complement the lyrics giving our audience a track they can enjoy and relate to," explains Mad3 For M3.

Live performance is the heart of this project, as they create their sound with performing in mind. Some of them have experience in touring all over the world with artists such as Pharrell, Sam Smith, Beyonce, Shakira, Mike Posner, Outkast and more.

"More Than Friends" marks the beginning of what will undoubtedly be an illustrious career of music and performance.