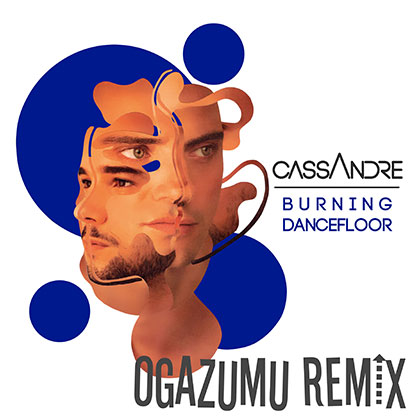 CASSANDRE
BURNING DANCEFLOOR
(Passport Songs Music/Believe)

Remix!
Pier and Flo are the members of the French pop music duo Cassandre.

After meeting through mutual friends in high school, Pier and Flo discovered their shared affinity for music and began composing music and writing songs together. Soon, a small repertoire had been created, and their friends convinced them to go on tour. Their first album was released by the fan-funded record label My Major Company after attaining the 100,000 euro mark in record time.
This album opened up exciting new doors : opening acts for Florent Mothe and Christophe Willem, and the opportunity to compose music for the Eymeric François couture fashion shows. Pier and Flo are now working on their second album.

Influenced by Troye Sivan and Years & Years, Cassandre is a rarity : a male pop duo like Air, the Pet Shop Boys, Simon & Garfunkel...
Thanks to their unique artistic identity, Cassandre's music transports us into a universe much like the one in Andrew Niccol's film Gattaca.

Their song « Respire » was widely broadcasted:
- Airplay : On the playlist of about twenty Yacast radio stations (Top 61 Variété, more than 4 million listeners over a 16 week period) ; Virgin Radio and Fun Radio showed interest in the project.
- Club : Top 12 on NRJ's « Club Hits » list and Top 12 on Yacast's « Electro Club » list, both for 16 weeks.

Cassandre is releasing their new single "Burning Dancefloor", available in English, French, and as a special club remix by OGAZUMU. The powerful bassline of the latter is sure to shake the dance floor !