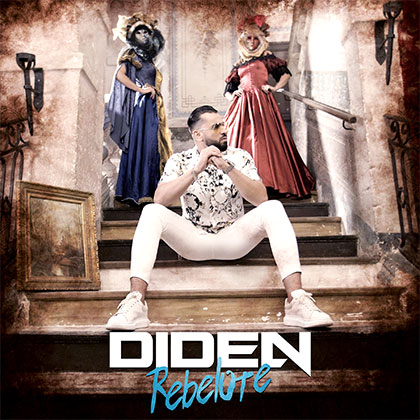 DIDEN
REBELOTE
(Black Pearl Music/Believe)

Et 10 de der…
DIDEN is a talented artist from Marseille who everyone is talking about ...
The public discovered him not long ago ...
DIDEN is the one many consider to be the rising "New Star" of the Marseille scene.

It all started in 2004, when he was 16 years old, DIDEN did not miss its take off and entered the urban world very early on.
He connects the local stages and the competitions where he leaves his traces at each performance, and puts the eyes to the spectators.
During this period, he began to polish his pen ... Little by little, he found the right rhymes and a most original flow: a universe for the general public and touching at the same time.
Then, he chained the concerts and won the CLASS'ROCK 2005 contest.
At this time, he joined the rap group "SOUL TOUCH" with whom he will make a part of his journey …

Like hip-hop groups, DIDEN talks about the street, about society, about love, friendship and real events.
"My main objective is to send a positive message, to sing about my dreams and to make my generation think".

March 2008, DIDEN released its first self-produced 11-track project entitled "Rêves de môme". This is followed by a tour of around 20 concerts, most of which will be sold out.

Determined to break into rap, DIDEN remains a hard worker who never stops writing and perfecting his lyrics by creating a very original style: "I want to show the public that I can do themed songs as much as songs. Egotrip ".
From variety to funk, including rock, DIDEN is inspired by various and varied musical influences.

Invited, he responds to various projects such as "TFL4" (Marbella feat TLF, L'Algérino & Kalif) or "Raï'NB Fever 4" (Vote or Raï part.2), and ensures the first part of the Raï tour 'NB Fever 3 (Bercy, Le Dôme de Marseille,…).

Over time, he begins to make a name for himself and would like to quickly release a second opus given the musical activity of the moment which suggests that there is a place to take …
No problem, DIDEN is patient, DIDEN continues to live far from the celebrity mirage…
He progresses at an infernal speed and gathers the memories and fragments of life that make him mature long before age.