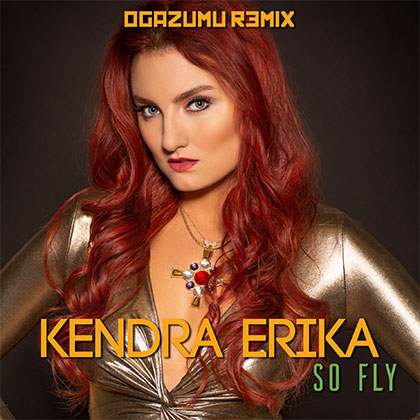 KENDRA ERIKA
SO FLY
(Dauman Music/-)

OGAZUMU Remix!
Kendra Erika, a South Florida-based rising star with multiple top ten hits on the Billboard Dance music charts, is like a timeless, flaming-haired siren whose voice is her superpower.

For Kendra, achieving musical success has been no small feat. Tone deaf as a child, Kendra was determined to do the work necessary to overcome this setback. She spent years in classical training just to learn how to sing on key.

Today, her songs are streamed across the globe on Amazon, Spotify, and Apple with hits like "Self Control" that made its way to #1. With an emotional delivery of a ballad like Avalanche, her voice can pull your heartstrings, and she can belt out operas with a tonal perfection and vocal beauty that will bring you chills.

Her new single "So Fly" has been remixed by Until Dawn, Bimbo Jones, and OGAZUMU whose remixes have made the world dance.