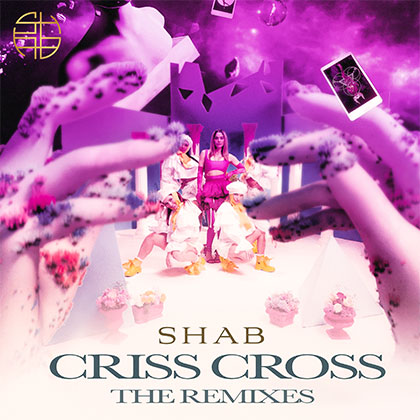 SHAB
CRISS CROSS
(Dauman Music/-)

Incredible Remix Pack!
Global pop sensation SHAB is set to release her highly anticipated new single CRISS CROSS, following her third consecutive #2 hit on MusicWeek's Commercial Pop chart in the UK.
CRISS CROSS delivers a dance-inducing, electric feeling with lyrics rooted in sensual love. SHAB strikes the perfect balance of vibrant beats and heart-fluttering lyrics, allowing her worldwide fanbase to see a new side to her. With millions of YouTube views and fans worldwide, this hypnotizing pop-dance song is steered by Grammy-winning producer Damon Sharpe, who produced Ariana Grande and Jennifer Lopez.

SHAB is known for her addictive, ear-worm combination of urban tilting songs, pop ballads, and dance-inducing knockouts. She combines an eclectic mix of sonic effects and catchy dance-pop hooks to make energizing music effortless and memorable. SHAB delivers a kaleidoscope of sound that goes hand-in-hand with her introspective and powerful lyrics with huge choruses and distinct yet unpredictable vocals in the purest of pop sense.