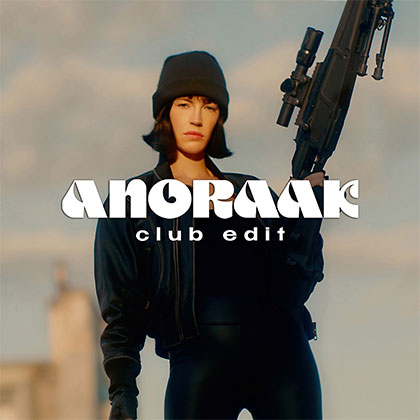 DORCAS x ANORAAK
TU ME MANQUES
(Destours/-)

Brand New Track!
"Tu me manques", the new catchy single from Dorcas takes us with passion and mischief on a pop ballad about obsession and fear following a breakup. The guitar and the bass intertwine with the angelic voice of Dorcas giving a song full of sensitivity while remaining joyful.

Anoraak is the musical project of French musician Frédéric Rivière, known for his expertise as a multi-instrumentalist, singer, producer, and DJ. He gained early recognition as a member of the band Pony Pony Run Run and as part of the Valerie Collective, founded by College. In 2008, Anoraak launched as a solo endeavor, becoming a leading force in the "sunset inspired disco and synthpop" genre.

With over 50 million streams and placements on popular Netflix series, Anoraak's extensive discography features collaborations with notable artists like College, Yuksek, Mozambo, and Grum. His latest EP, "Gang" and "Karma," showcases a switch to a groovy disco-funk sound.

Anoraak has performed at prestigious festivals, including SXSW and Electric Daisy Carnival, while headlining his own global tours, solidifying his status as an influential artist in electronic music.